Posted by Rachel Penny on Jun 7th 2021
Custom Wood Pins
Have you ever wondered what our tagline "More Than Just Pins…" actually means? Well, we are thrilled to let you in on a not-so-little secret we've been keeping! For quite some time now, we have been perfecting the newest addition to our product lineup. Drumroll please… CUSTOM WOOD PINS!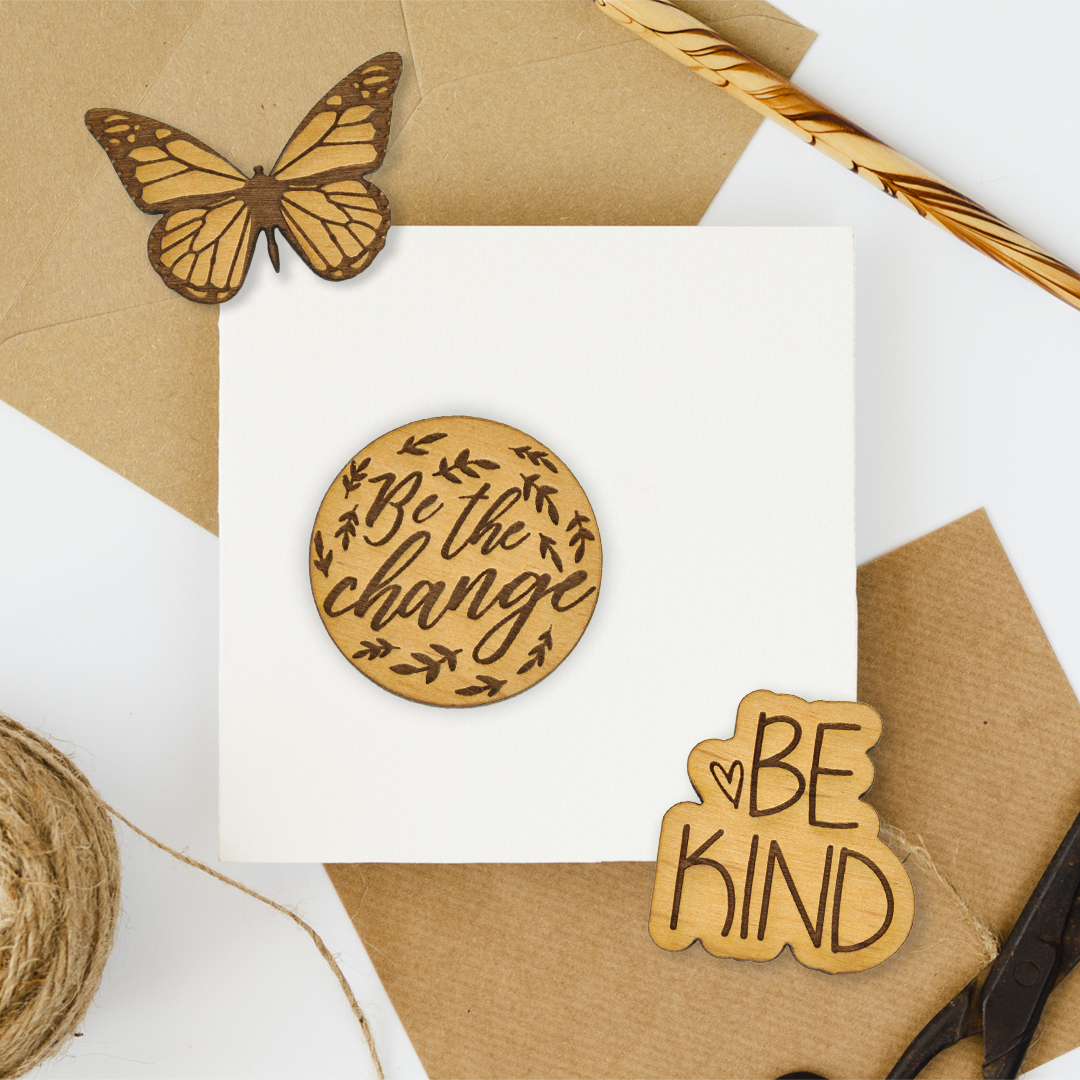 Take your logo or message to the next level with our eco-friendly Custom Wood Pins. Each pin is made from 1/8" thick Red Alder wood. All our wood products are packaged and sourced from sustainable forests and can be fully recycled.
We're excited to announce that we have partnered with One Tree Planted! Through our partnership with One Tree Planted, every order placed will plant a tree.
Free Art in 1 Day
3 Day Fast/3 Day Production + Free Shipping
No Minimums - Buy 1 or More Custom Wood Pins
Made in the U.S.A.
Prices are based on 1 design per order. If you need a detailed quote, have personalizations or copy changes, or want extended quantity prices, please fill out our detailed quote form here.
Still curious… we thought so! Keep reading to see our answers to the most asked questions about our Custom Wood Pins below for you.
How Are Wood Pins Made?
Each wood pin is laser etched and cut out of a large format sheet of 1/8" Sustainable Red Alder wood with a high-powered laser.
How Does Laser Etching Work?
Laser etching essentially burns the wood therefore removing some of the wood. This results in the laser etched design being darker than the surface wood.
What Is The Difference Between Etching and Engraving?
The terms are often interchanged; however technically etching is a burning process whereas engraving is a mechanical cutting process. A laser can also be used to cut much like it is used to cut an enamel pin.
Are Wood Pins Strong?
While they of course are not nearly as strong as metal, wood pins are still quite strong. We use 1/8" thick wood, which is very suitable for a pin, in comparison to other companies that use 1/16" wood.
Is the Red Adler Used for Pins Treated with Chemicals?
Simply put, no. We don't use chemicals to treat our wood pins.
Can Wood Pins Be Stained to Different Colors?
To preserve the natural quality of the wood, we unfortunately cannot stain them different colors.
Are the Wood Pins Finished with a Clear Coat?
No, the pins are not finished with a clear coat.
Will Wood Pins Change Color with Age?
Fun fact! Our Wood Pins will age just like real wood, adding to their unique beauty.
What Type of Pin Backing Do Wood Pins Have?
The standard backing for our wooden pins is rubber. However, please note that a magnetic attachment is also optional!
Can Wood Pin Designs Include Color?
Our Wood Pin designs do not include color.
Can My Wood Pin Design Be Any Shape?
Most definitely!
How Much Text Can Be Included on a Wood Pin?
We can actually get a great amount of detail on our Wood Pins! For 1" designs, we generally do not add text smaller than a size 5/6pt. It all truly depends on size and design.
Is the Wood Grain the Same or Unique on Each Wood Pin?
Like natural wood, they are all unique, including minor imperfections.
Does the Wood Grain Impact the Design of the Pin?
In our opinion, the wood grain only enhances the design!
Is the Base Color of the Wood Consistent on each Pin?
Yes, but keep in mind that it will vary slightly just like real wood.
Does Each Pin Purchased = One Tree Planted?
Each ORDER placed plants a tree with One Tree Planted!
If you are still in need of further information on our Custom Wood Pins, please don't hesitate to contact us!